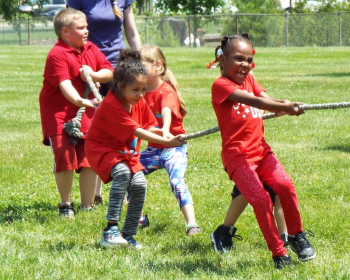 ---
2023-2024 Open Enrollment
We are very excited at the possibility of having you join the Tipton Tiger family!  Each year, we conduct a re-enrollment period where current families share with us their intent to return for the following school year. That reserves their space for the upcoming school year. If they are planning to move or decide to change schools for any reason, they respond and then we determine how many spaces we have available for new students. We then conduct a two-week "open-enrollment" period. This will be from March 10, 2023-March 24, 2023. During this time, we take New Student Open Enrollment Form Applications for available spaces for the upcoming school year.

This two-week period is designed to work with our prospective families to allow everyone to have the fairest opportunity to receive an open space. If you submit your application at 8am on March 10th or at 3pm on March 24th, they are both treated as if they arrived at the same time. All applications received during the two-week open enrollment period will be treated the same. Any application received AFTER 3pm on March 24th will be provided a first come first serve priority to receiving an open spot for the upcoming school year.

If, during the two-week open enrollment period, we receive more applications for a specific grade level than space available, we will place each of those student names into a random selection lottery. Students will be placed in the grade level in the order they are drawn with the exception of the sibling preference policy. (see below) Once all spaces are filled, the remaining students will be placed on the waitlist in the order they are pulled, with the exception of the sibling preference policy.

Sibling Preference Policy: At Tipton, as a family school we strive to keep families together. Once one sibling has received an available space, it moves up the priority of any additional siblings. It does not guarantee a space because we have classroom limitations, but it does move them up to the next available space based on the rule.

To begin the process, all you have to do is complete the following questions that provide us necessary information to accurately count students per grade level. You will need to complete a SEPARATE form for each individual child you would like to enroll. Once we have completed the two-week open enrollment period, we will contact parents that have applied and let them know the next step. If your child receives a space, it will be held for a designated period of time. Your child is however, not enrolled. You MUST complete a registration packet in order to fully register your child to attend Tipton Academy.

That was quite a bit of information! If you have questions, please don't hesitate to contact our main offices Tipton EAST (GSRP Prek-3rd grade) 734-261-0500 or Tipton WEST (4th-8th grade) 734-796-7676. We also have two informational events coming up! If you are unable to attend please contact office@tipton-academy.com to request additional information or a link to the recorded video when it's available.

New Student Open Enrollment March 10-March 24
23-24 School Year New Parent Information Night/Bring a Friend Night for Current Students
Description: Activities that your K-8 children will be able to participate in. 
Thursday March 16, 2023
5:00-7:00pm
Tipton Academy (West Campus)
29205 Florence Street
Garden City, MI 48135

23-24 School Year Kindergarten and GSRP Round Up
Thursday March 24, 2023
5:00-6:30pm
Tipton Academy (East Campus)
1615 Belton Street
Garden City, MI 48135

TO APPLY: Please click the link below and complete the requested information. *Note: You will need to create a new account or choose to login with one of the options listed. 
---
2023-2024 RE-ENROLLMENT for CURRENT TIPTON STUDENTS
 Dear Tiger Families,

We can't believe we are already planning for next school year, but the time is here! Beginning February 22, 2023,  Tipton Academy will be conducting our RE-ENROLLMENT process for the 2023-2024 school year.  We have an online submission form for your convenience! Parents of current students wishing to return in the fall, will need to complete a separate form for EACH child that currently attends Tipton Academy. You will reserve your child's space for next year by submitting the answers to the questions below.  

Any NEW siblings that you wish to attend in the fall of 2023 will need to be submitted through NEW STUDENT OPEN ENROLLMENT beginning March 10th. On that form you'll indicate they are a sibling of a current student and they will be provided preference to fill available spaces.

*Even if you are not planning to return in the fall, please complete this form by indicating you do not wish to reserve your child's spot.

The RE-ENROLLMENT FORM  is due by March 8th at 3:00pm.  Missing the March 8, 2023 deadline may forfeit your child's enrollment at Tipton Academy for the 2023-2024 school year.  We do not want that to happen! This is very important because available openings for new public enrollment will be determined based on the re-enrollment information we receive from these submissions.

We look forward to having you continue to be a part of the TIGER FAMILY!

Click link to submit the form: https://forms.gle/9saDC8R1X9jUrm9v6


If you have any questions, please contact the main office.
Thank you, 
Team Tipton
---
Kindergarten Roundup
Virtual Parent Night
Tipton Academy Video Tour
---