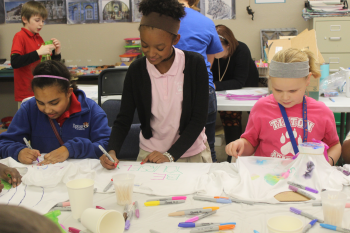 Mission
The mission of Tipton Academy: Tipton Academy, in partnership with students, staff, parents and community members will challenge all students to realize their full potential by providing them with the highest quality educational program through individualized academic achievement, high moral standards, and strong family and community engagement.
The Tipton Academy Pillars of Education will be visible throughout the educational program and experience.
High Moral Standards: Students will be held to high levels of moral and behavioral expectations during interactions with peers and staff members.
Family and Community Engagement: We strive to have a family environment where students, staff, parents, and the community will participate in creating a lifelong value for lasting bonds, a sense of belonging, service, and community involvement that leads to student and adult success.
Equitable Learning Experience: Our students will be provided an equitable education providing programs and academic experiences based on their individual needs that will help them to achieve their full academic potential.
Vision
The vision of Tipton Academy is to help all students become successful learners and prepare for the future.
Beliefs
All children must be respected and in turn learn to respect others.
All children can be inspired to learn by recognizing their unique gifts, talents, and modality of retrieving and using information.
All children learn best by engaging in real-life experiences in an atmosphere that is safe and orderly.
All children will be encouraged to build strong relationships, which will increase trust while positively impacting learning.
All staff will work as a "team" toward reaching the school's mission and vision.
All stakeholders will be part of the Academy's success by fostering a positive partnership.
All children can develop a responsible role and make contributions in a democratic society through a strong curriculum that challenges each of them to reach his or her potential.
Educational Philosophy
Tipton Academy represents "team spirit" and "positive partnerships" with students and families, all school staff and members of the community.
The teaching staff is keenly aware that they must be positive role models and caring instructors and exhibit characteristics such as integrity, creativity, loyalty, responsibility, honesty, and intelligence that are valued by all stakeholders.
In addition, it is very important that both the teacher and the parent communicate regularly regarding their children.  Both should be open and responsive to one another's suggestions and concerns.
Why Choose Tipton Academy?
We are ONE BIG FAMILY! 
Highly Qualified, Certified Teachers
Safe/nurturing Environment
Small Class Sizes 
Full Day Kindergarten
Free 4 yr Old Preschool
Technology used by Teachers and Students
Before/After School Programs
Dress Code
Involved Parent Group/Volunteers
Computers/Smart Boards in all Classrooms
Emphasis on Character Education and Family Values
Music, Physical Education, Technology, Health, Foreign Language
Athletics 6-8 Grade | Basketball, Volleyball, Flag Football, Soccer, Cheerleading
Tutoring Program
Fieldtrips in all grades